Angus MacDonald OBE, who has built and sold five significant businesses whilst based in the Highlands, will share his inspiring entrepreneurial journey with the Highlands' business community at a free event at Inverness College on Thursday 30th May.
MacDonald first established his reputation in the 1990s in his 20s, building and selling a data company to a Californian FinTech business, this was followed by scaling and selling two financial publishing companies for a combined value of over £91m. In 2018/19 he sold an education company and recycling business for £60m. In 2014, he was awarded an OBE for services to the Highlands, and in 2017, was crowned Spear's UK wide Entrepreneur of the Year.
---
The event will provide an opportunity for attendees to strengthen their business acumen, develop strategy from MacDonald's insights, and pose questions to him during a Q&A session. They will also be able to connect with other local business owners and like-minded peers.
Speaking ahead of the event, Angus MacDonald OBE said "I love business, believe that opportunities abound, and I want to encourage younger generations to share this ethos, particularly in the Highlands. I will still be doing this when I am 85, increasingly with a core focus of encouraging local businesses to develop and flourish."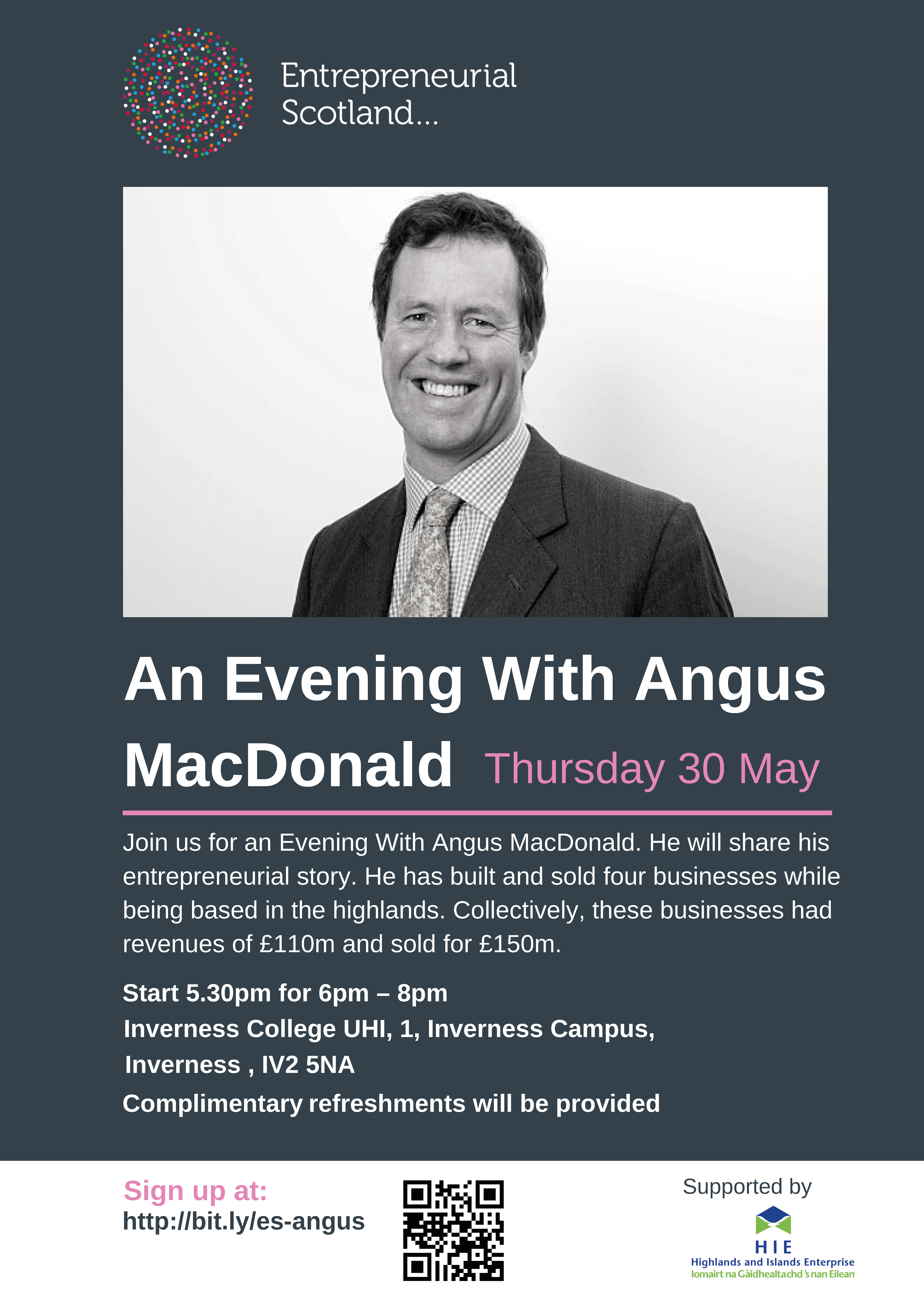 ---
Sandy Kennedy, chief executive of Entrepreneurial Scotland, will chair the event and is at the forefront of leading a movement to progress business in Scotland himself. Commenting on the event, Kennedy said: "my goal is to develop and inspire Scotland's business minds to become the most entrepreneurial society in the world.
"At Entrepreneurial Scotland, we manage a rapidly growing membership of some of the country's most successful business owners, including many in the Highlands and Islands. This free event is a great opportunity for entrepreneurs, business owners and those interested in entrepreneurship and intrapreneurship to come together and hear Angus' story."
---
The event is free to attend on Thursday 30th May, more details can be found here:https://www.entrepreneurialscotland.com/events/evening-withangus-macdonald
Date: 30th May
Start 5.30pm for 6pm – 8pm
Inverness College UHI, 1, Inverness Campus,
Inverness , IV2 5NA
Complimentary refreshments will be provided