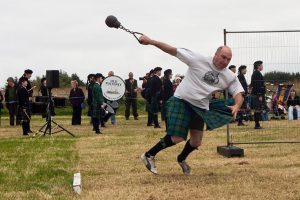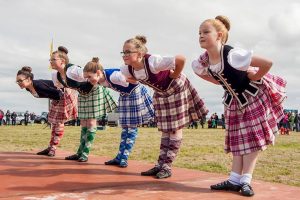 What is more Scottish than piping, Highland dancing or tossing the caber? Yes we are well and truly into Highland Games season.
Highland Games and some of our unique Scottish products such as shortbread, whisky and kilts are arguably some of our best exports and attractions. Scottishness as a brand is uniquely marketable and very saleable – is it any wonder that so many companies are capitalising on their Scottishness?
Last weekend, in Inverness alone, more than 9,000 people visited the Highland capital to attend the City of Inverness Highland Games and Gathering.
It also included a dedicated Outlander tent, which was one of the most visited stalls during the Games weekend.
The historical time travel series has become a phenomenon. The hit TV drama, which has signed up to a sixth season, is based on the best-selling book series by American author, Diana Gabaldon. It has seen huge success on both sides of the Atlantic.
The British-American TV series, which features a World War II nurse who is transported back to the time of the Jacobite rising of 1745, has played a huge part in the tourism boost experienced across Scotland.
Visitor attractions around the county, including in the Highlands, such as Culloden Battlefield and the Clava Cairns have seen an increase in visitor numbers in recent years which has been put down to the success of the hit TV series and what is now often dubbed the 'Outlander effect.'
It is no surprise that a whole host of merchandise, such as replica Highland dress, jewellery even dedicated tours of locations the TV series has been filmed at, have all sprung up thanks to some fast acting businesses and entrepreneurs who were quick to capitalise and tap into the popularity of the TV series.
It is always worth examining if you are making the most of your brand and any connections it may have that you can capitalise on, such as Scottish links. The market for Scottish brands is endless and immediately opens your product up to the overseas markets in the United States as well Australia and New Zealand.
Last year was a record year for visitors with an incredible 3.2million overseas visitors coming to Scotland, spending a whopping £2.3billion, according to the Office for National Statistics.
Meanwhile there are still a number of Highland Games to take place this summer and the Mey Games which will be held in Caithness on the 4th of August is set to write its way into the history books.
It will welcome adaptive para-athletes to compete for the first time ever at a Highland Games in Scotland.
60 para-athletes will travel from as far afield as America and Australia and all over the UK to take part in the milestone event. The Mey Games will be unique as it welcomes both para and Invictis athletes to compete in traditional Highland track and field competitions. This will be the first time that para-athletics has been included within a traditional Highland Games context in Scotland.
US para athlete Alex 'The Tank' Armor, who holds the world record for wheelchair caber tossing, as well as several top Australian para-athletes will be competing.
HRH Prince Charles, the Duke of Rothesay, is chieftain of the event and he is expected to attend again this year.
Highland Games may date back almost 1,000 years and even after all this time it seems the enduring global appeal of these ancient gatherings, as well as the allure and appeal of Highland history and all things Outlander remain as popular as ever.
Being enterprising, quick thinking and able to capitalise on a big idea, such as the Scottish/Highland link on the back of the success of the Outlander series, proves culture, history and tradition can always be reinvented for new markets.  So if you have a brand with a Scottish background or link, it's worth considering how you can maximise this to drive sales from other markets and make the most of your Scottish connection, as you never know you may just have another multi-million pound blockbuster on your hands.
As for Highland Games, I have a feeling they may well endure for another 1,000 years – probably washed down with a drop of whisky or two! Slàinte mhath.