After 18 months of postponed or cancelled events, 2021 saw a summer of sports like no other. We got not one, but two international sporting events taking place still carrying the 2020 name of the year they were supposed to be, they just happened to arrive a year late.
First, we had the Euros 2020 where football was so close to coming home (to the horror of my Scottish teammates) followed by the Tokyo 2020 Olympics – the first ever to be held without spectators. As the dust settles on an amazing couple of months of sport, we can look back and reflect on the brands that delivered gold medal worthy creativity.
We had a memorable Euros tournament, football has always evoked passion and rivalry between fans, and as Scotland played its first major football tournament in many years, Wales faced Italy in group A and England progressed to the final, we saw brands across the country get behind their home nation teams with varying degrees of success.
Reactive social posts and advertising were ever present and Tesco's play on 'I-tes co-ming home' was mocked by both fans and other supermarkets alike, with a particularly witty post from Iceland. Whilst this was all in good spirit and got people talking, the most successful campaigns and stunts saw brands going out and offering football fans something different – McDonald's stole all the headlines after offering 25% off menu orders to celebrate England reaching the quarter finals.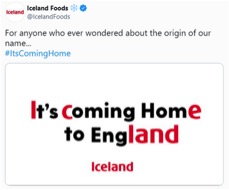 Another example of a quick reactive stunt was from Tennent's, mocking England's 'bottlers' after Scotland's excellent Wembley display ending in a 0-0 draw, launching a new promo poster which read: "Don't worry England, we bottle it too." Alongside the new Tennent's Light bottle. Not only did this go down a storm with Scotland fans but it was also intrinsically linked to a new product, getting people talking for all the right reasons.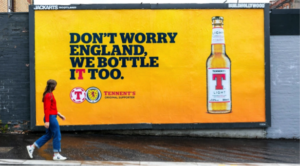 If brands played on rivalries during the Euros, for the Olympics brands looked to celebrate unity and success – campaigns such as Proctor and Gamble's Lead with Love looked to showcase the value of hard work and patience among athletes whilst acknowledging the efforts made by people around them.
Whilst we saw big adverting campaigns from sponsors during the Olympics, including DFS, Aldi and Purple Bricks – we saw less brands reacting to what was happening following dramatic days of action.
This shows how different sports conjure up different emotions, and brands need to be privy to this – the Euros offered brands an opportunity for some brilliant reactive stunts, where the most successful examples were when brands were able to tie it back to their offering or purpose. For the Olympics, brands played on the emotions and the hard work the athletes go through to make it with multi-channel marketing campaigns.
One thing is clear, with so much noise during these international sporting events, only the best campaigns and stunts will be heard, and sit at the top of the creativity podium.
To find out how we can help you, visit our what we do page.